If all goes well, you'll get a message that says the scoring was complete with no errors. (If you get errors, correct them, save the file, exit the program and restart it before compiling the score again - not all the bugs are out yet.)


Now you will want to process your results. You can select Printer > from the Results Menu (pictured below) to print your various reports.


Export HTML File will create a web page file for use on the internet.


Export Qualifiers List File will create a name.doc file which includes most of the information that the MHSAA requires for the State meet. You can open it with your word processor and add any other info that is required. Note: The info in the file is separated by tabs as recommended by the MHSAA. Some columns may not appear to be lined up, but trust me, they are ok.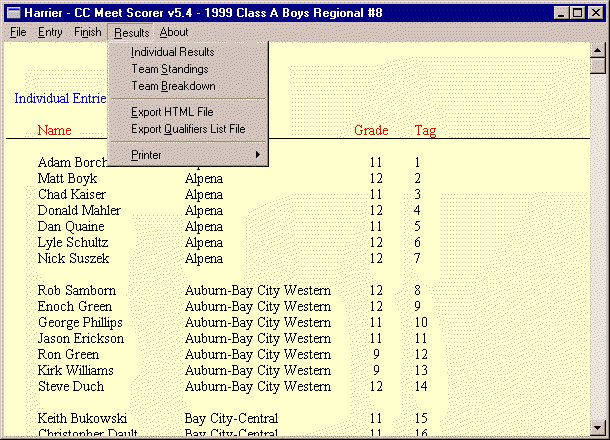 Congratulations! You're done. Hopefully in a timely manner - we all know how impatient coaches can be.
Good Luck!